Because of the shorter lifespan of our pets, we stress the importance of an annual physical examination. Thorough check-ups and preventive care can help alleviate serious health problems. We offer a wide range of veterinary services to keep your companions feeling their best:
Preventive Medicine:
Our veterinary team strives to provide quality care to you and your pets through personalized attention. Thorough annual physical examinations and individualized vaccination protocols are at the core of our preventive health care recommendations. We have specialized recommendations for each stage of life that we additionally taylor, with your help, to fit your pet's lifestyle and individual risk.
Veterinary Medical Manipulation:
Veterinary Medical (Spinal) Manipulation (VMM) is a manual therapy used to identify joint restrictions with the goal of restoring normal range of motion. Resolution of restrictions can result in muscle relaxation, pain relief, improved circulation, and neurologic function. All pets can benefit from treatment from athletes to seniors. *VMM is similar to chiropractic care but is termed such because it is performed by a veterinarian, not a chiropractor
Diagnostic Services:

With our complete in-house laboratory, the team at Paw Paw Veterinary Clinic can provide you with bloodwork results in minutes. While we utilize commercial veterinary laboratories for specialized diagnostics and consultations, the majority of our bloodwork is performed in clinic and can provide us with vital information used to help treat your pet. Along with bloodwork, we have the capabilities to examine aspirates, cytology samples, urinalysis, and various other samples.

Surgical Services:
While at Paw Paw Veterinary Clinic, your pet will receive a pre-anesthetic physical examination and bloodwork that was individually selected for your pet's life stage and style. Each surgery also utilizes modern anesthetic agents and protocols designed to minimize discomfort before, during and after surgery. Additionally, for your pet's comfort and to minimize the hypothermia common with anesthesia, Paw Paw Veterinary Clinic has heated surgical tables and heated recovery crates. During surgery, each doctor is assisted by a trained surgical assistant and your pet is monitored by top of the line equipment. These monitors keep track of blood pressure, heart rate, oxygenation, ECG, and respiratory rate. Paw Paw Veterinary Clinic is also equipped with a CO(2) surgical laser. The use of this laser can help reduce bleeding, quicken recovery time, and reduce the initial discomfort felt with surgery. Paw Paw Veterinary Clinic uses all of these techniques together to help to provide you and your pet with the safest, most comfortable surgical experience possible.

Radiology Services:
Our on-site, digital X-ray equipment provides high quality digital radiographs to aid in the quick diagnosis of many disorders.

Ultrasonic Imaging:
Ultrasound imaging is available at our office. Abdominal and Thoracic ultrasounds are a very helpful diagnostic tool for our Doctors. Ultrasounding can help diagnose bladder stones, abdominal masses, heart problems, confirm pregnancy, and more. Referral for more specialized ultrasound needs are available when necessary.

Electrocardiography Services:
We provide ECG services on-site that can be sent to a cardiology specialist. This technology provides your pet with an analyzed ECG reading within 24 hours by a trained cardiologist. Our team can then work with you to determine the next course of action for your pet's health recommendations.

Dentistry:
Dental care is an important part of preventive medicine for your pet. Maximizing oral health can make your pet's life a longer and healthier one. Regular examinations by a doctor and recommended dental cleanings can help minimize bacterial burden within your pet's mouth. The staff at Paw Paw Veterinary Clinic can help you learn to incorporate a maintenance program at home to help keep the teeth healthy between dental cleanings. By starting your pet on a schedule early in life, you can help add quality to their years-and save your nose from bad breath!

Permanent identification:
We offer microchip identification to help your pet get home when tags fail. Please ask our team about microchip implantation and the benefits to you and your pet.

Pharmacy:
The team at Paw Paw Veterinary Clinic realizes that you and your pet lead busy lives. To help keep your life running smoothly, we maintain a complete inventory of pharmaceuticals, vitamins, shampoos, flea and tick control products and heartworm preventatives to meet the needs of your pet. We also carry a full line of prescription diets. Please allow 24-48 hours for prescription refill requests.

Individualized Flea Control Programs:
We develop programs for the specific needs of your pet and your own particular environmental situation. We will review with you the best ways to control fleas in your house and on your pet.

Dietary Counseling:
Up to 35% of our country's pet population are overweight. Even carrying just a few extra pounds can put our pets at an increased risk for disease and injury. On average, pets at an optimum weight can live almost 2 years longer than their overweight friends. At Paw Paw Veterinary Clinic, we strive to offer the highest level of patient care. We offer a weight management consulting service for all of our four legged friends. Our goal is to help your pet safely reach their optimum weight so they can lead a longer, healthier life.

Emergency Care:
For your convenience our office offers extended hours during the week, and Urgent Care Hours on Sunday from 9:00 am to 11:00 am. If your pet has a life threatening emergency that cannot wait until our office is open, you can call VCA Southwest Michigan Animal Emergency and Referral Center at (269) 381-5228. Holiday emergency service is also provided by the VCA Southwest Michigan Animal Emergency and Referral Center to allow our staff time with their families.
---
Appointments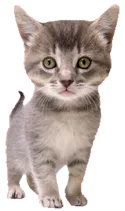 Our appointment book is computerized, which allows us to efficiently make appointments for you and your pet. Our receptionists and team will attempt to accommodate all requests to the best of our ability. Emergencies are accepted anytime our clinic is open. If you feel you have an emergency with your pet, please call us or come in immediately. If possible it is best to call before coming in so that a staff member can advise you on your particular emergency.
-Dogs
-Cats